Dave McElfatrick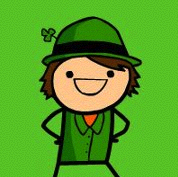 Dave McElfatrick's picture uploaded on Facebook.
"Completely karma-whoring at Reddit btw. My karma was sitting at 198 for weeks, it was bothering me."
―Dave
David "Dave" McElfatrick is an Irish webcomic cartoonist on explosm.net, which is a site dedicated to Cyanide and Happiness comics. In 2010, Dave, who was a Northern Ireland native, started a petition for a visa into the United States, in order to be with the other writers to produce more animated shorts. The petition gained over 132,000 signatures in less than three weeks. On September 1, 2010, it was officially announced that Dave qualified for the visa that would allow him to enter the United States to work on more comics and animated shorts with Kris Wilson, Rob DenBleyker, and Matt Melvin. Of the four, he is the second youngest, youngest being Kris.
Dave has participated in many events along side his colleagues. Contributing to explosm.net since April of 2005, Dave may not have been there longer than Rob or Kris, but the part he plays in creating these comics will never go unnoticed. He is said among fans to be the best artist.
His superhero mascot is Mr.LolFag. He has a orange outfit with the words LF in yellow letters and a black outline. He has a yellow cape and he, along with all the other superhero mascots, can fly. Anybody he says Lol! Fag! to has really bad luck. It is shown in one comic, his powers caused war and when he said Lol Fag to Jesus, in the next panel, it shows Jesus hanging from the cross, dead. That makes Mr.LolFag the most powerful hero out of the four. His characters are known for their Long legs and small bodies. Their heads are perfect circles. Earlier in the comics, the characters had oversized eyes. The women are known for their big breasts and weird hairdos. All the characters in Dave's comics are known for their hunger for sex. There are also many crimes committed in his comics, mostly rape and burglary.
As implied through his Facebook and Twitter activity, he is very nationalistic, often giving shoutouts to "Irish and Northern Irish fans." He has also made many jokes about his love for the snack food Cheetos.
Cyanide & Happiness Shorts - writer/director (2013-)
Cyanide & Happiness Minis - writer (2016-)
Cyanide & Happiness Season 1 - writer/director
Cyanide & Happiness Season 2 - writer/director
Cyanide & Happiness Season 3 - writer